Girls Coastal Adventure *Overnight*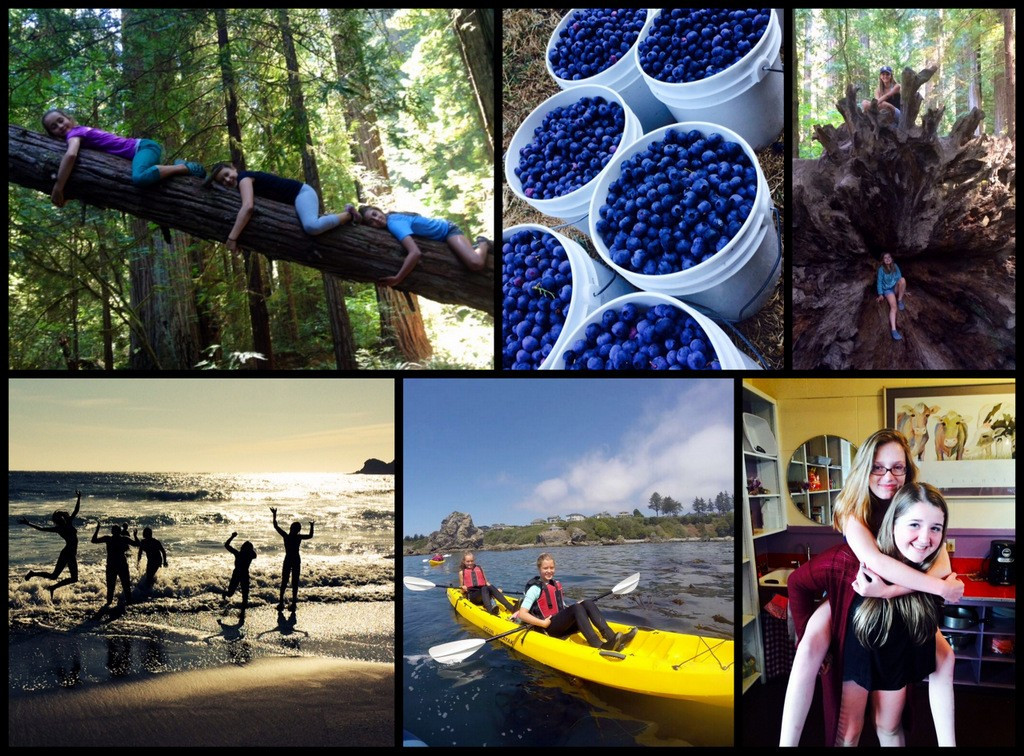 Girls Coastal Adventure Camp


July 23-26 - 4 days / 3 nights Overnight
Girls entering 7th-9th grades (ages 12-15 yrs)
$749 (all inclusive)


The Southern Oregon Coast is the perfect place for girls to meet adventure, cultivate new friendships and have some fun! Whether it's surfing along the crescent city waves, kayaking in the mouthwaters, riding horseback along the beach, river snorkeling, jumping into rivers that run through old growth, or just opening their hearts to conect with new friends, your girl is sure to have an amazing time! Expect her to feel a little challenged- but held and supported in a loving and nurturing environment. We seek the space just outside our comfort zone, with plenty of mellow time to process and be together! Girls will cook together, create beautiful art, enjoy quiet reflection time in their journals, hike old growth & coastal forests, make jewelry and set daily intentions- then bring it all back at the end of the day with a sustaining circle and plenty of laughter. Food is always healthy, tasty and mostly organic. All activities are guided with caring intention. We'll stay in a spacious rental, accomodating all the girls near the river and the ocean- with all the great amenities, including kitchen, showers, nearby woods & beach access, spacious deck, grounds for outdoor games, and inside meeting rooms, and even a hot tub! Our guided adventures (surfing, kayaking, SUP, or river snorkeling) are always in collaboration with South Coast Tours LLC, a local professional outfitter and long-time friend! Meaningful, Sweet & Magical!
Activities May Include any of the following:

Surfing Lesson
Boogie boarding
Hiking in the redwoods and through coastal old growth
Swimming in the ocean & pristine rivers
1st Aid Workshop or Horse back riding
Cooking, Baking and/or a maybe trip to the farm
Cool art projects
Journaling
Circle time - Topics wil likely highlight any of the following: Inner Critic, Self Esteem & Confidence, Healthy Relationships, body image & media, Trust, Friendship.


About the Facilitators & Guides...

Tracy John, co-owner of FlipSide Studio, leads all of our Coastal Camps. A previous long time resident of the Southern Oregon Coast, she weaves her knowledge and connections to the area with her 20+ years teaching, coaching and mentoring youth & teens to bring an unforgettable Camp experience. Tracy genuinely cares deeply to create meaningful connections and moments to empower each girl every step of the way. Passionate about circle work, movement and the outdoors, her heart's work lies especially in mentoring middle & high school girls. She currently runs the Siskiyou Girls Circles. With degrees in Psychology and Montessori Education, she weaves her experience in Circle Facilitation, Waldorf Education, Developmental Movement, Gymnastics Coaching, and Wilderness & Outdoor Adventure. Tracy currently & happily resides in Talent, OR with her loving husband & 2 incredible teenage daughters.

Lani Emerson, Art Instructor extraordinaire, compliments our facilitator team with a nurturing and positive holding of all the girls. Lani brings her years as an experienced middle school art teacher, artist, mama, surfer and experienced adventurer to our camp. Connectable and kind, Lani creates fun, engaging and meaningful art projects for the girls to highlight our circle topics and incorporate our natural surroundings. Her wisdom and depth draw girls in, fostering a trusting environment.

Olivia Miguelucci teaches self defense to teens, mentors middle school girls for Siskiyou Girls Circle and The Rose Circle, and is a practicing Doula. Her sweet and gentle spirit, clarity of mind and compassionate heart calms and supports whomever she encounters. Olivia is a truly approachable, easy going person who loves all things outdoors and values deeper human connection.

* All leaders on this trip are 1st Aid/CPR Certified.
CAMP PAYMENT/ REFUND POLICY
Camp deposits are due at the time of registration and are non-refundable.
All remaining camp balances are due by June 1st!
Full refunds minus deposit offered up to 2 weeks prior to camp start date.
NO REFUNDS given within 2 weeks of the camp starting date.
Please let us know ASAP if your child needs to drop his/her spot from a camp. We often have a waitlist of eager kiddos hoping to join.
Please Contact Us with any questions!